NEWS
Online Executive Certificate – Strategic Foresight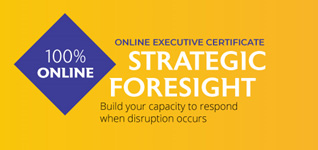 The EDHEC Foresight, Innovation and Transformation Chair is proud to announce a new online Executive Certificate in Strategic Foresight. We are launching a 5-week course that helps you build your capacity to respond when disruption occurs. The course will start on October 11th 2021. Read more
EDHEC Professor Karin Kollenz wins Best Case Study at the Case Centre's 31st Awards
Professor Karin Kollenz along with Jamie Anderson and Nader Tavassoli won an award for the best-case study on P&G's Gillette brand. Read more
WORK WITH US
Future of Buildings Project
Every year we select an industry to explore future trends and scenarios with a group of non-competing companies. In 2021, we are working on the Future of Buildings. Check out our video from last year's "Future of Air Travel" project and contact us if you want to join us this year.
INSPIRATIONAL READS
Planning for uncertainty: Performance management under COVID-19
Companies need a new approach to financial planning and performance management, one that informs rapid realignment of plans and actions and ensures organizational resilience. Read more in this article from McKinsey.
The Business Case for Futures Intelligence
What is Futures Intelligence and why should businesses care? Read about why organizations need futures intelligence to remain competitive in this article from Forbes
3 Ways To Plot Your Company's Strategy in Covid Era and Beyond
Dynamic capabilities allow organizations to sense trends, seize opportunities and transform themselves and their industry. Read about our research results and how to build dynamic capabilities in your organization.
Lessons learned from the automobile and airline industries
Learn about Manufacturing and service supply chain resilience to the COVID-19 outbreak in this academic article.